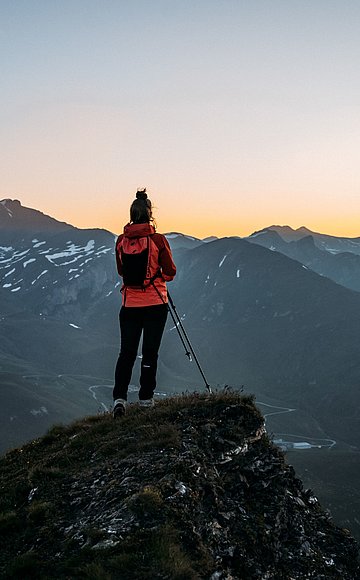 Sunrise Tour
Sunrise on Piz Munschuns (2655 m.a.s.l.)
Experience with us the unforgettable moment when the sun makes the Silvretta Arena appear in a golden glow and the first rays of sunlight warm your face. A magical moment that will remain in your memory. The guided sunrise hike takes place weekly during the summer season. Please refer to the respective weekly programme for the exact date.
Key data
Meeting point & departure: in front of the Hotel Chasa Montana (day & time varies weekly)
Equipment: Please wear sturdy shoes, warm clothing and headgear and take your mobile phone or a photo camera, enough to drink and, if necessary, walking sticks with you.
Registration: the evening before by 5:00 pm at the reception desk.
Procedure
Early in the morning we take the hotel bus to the Alptrider Sattel (2487 m.a.s.l.). There, at dawn, we climb approx. 200 metres in altitude / 0.75 kilometres (approx. 20-40 minutes) to the summit of Piz Munschuns (2655 m.a.s.l.). At the top we enjoy the sunrise over the Eastern Alps. Afterwards we descend on the same path to the bus and return to Chasa Montana. The tour is accompanied.
Requirements and equipment
For this mountain hike, participants must be sure-footed, free from vertigo and in good physical condition. They must be aware of the dangers in the mountains (falling rocks, danger of slipping and falling, weather conditions). Wearing sturdy shoes with a good grip sole and equipment appropriate to the weather are necessary. Walking sticks are recommended. Warm clothing and sufficient liquids should also be brought along.
Information
The mountain trail (mostly T2) is marked white-red-white. It is mostly steep and narrow, and in places it is also exposed. For people with mountain hiking experience, this mountain tour is usually no problem.
Insurance
Participation at your own risk. Insurance is the responsibility of the participants.