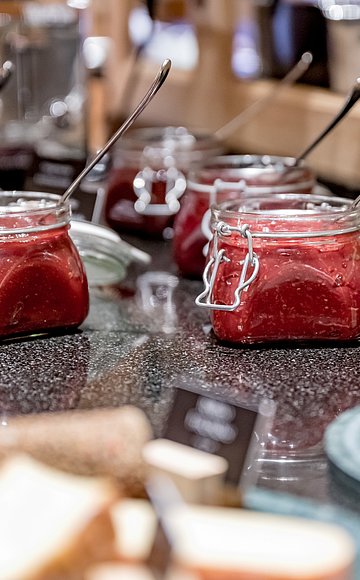 We spoil you with the best products from the surrounding regions
Three-Country Breakfast
balanced & varied
Start the day with a regional breakfast and the finest products from the Engadin (CH), Tyrol (AT) and South Tyrol (IT). The good stuff is close at hand. We are proud to work with our local producers.
Two family-run businesses delight our guests every morning with regional and freshly baked breads. The Rechsteiner bakery and the Habicher bakery are traditional businesses with consistent and best quality.
From the cult butchery Hatecke in Scuol in the Engadin we obtain Bündnerfleisch, Salsiz and raw ham. Our eggs come from Vorarlberg in Austria.
From the Sennerei Samnaun we get the best milk, unique cheeses such as Mutschli, fine yoghurt and butter, and all from healthy Samnaun cows. The foundation for these products are the mountains with alpine hut farming and the attention to detail in processing.
Since we even have our own cheese sommelier in the house, you can also be inspired by special varieties of Che Chaschöl cheese from the nearby mountain village of Tschlin, among other things.
In the morning you will find muesli, oatmeal and more from the fantastic "cereal trio" Cerealps in Nauders in Tyrol, Biomanufaktur Verival in Tyrol and Venosta in South Tyrol. The products are characterised by their production in the middle of the Alps with crystal-clear spring water and the very best ingredients. Start the day healthy and crunchy and enjoy your muesli with regional fruit like South Tyrolean apples.
Arthur Jenal from Samnaun is a passionate beekeeper who produces a first-class mountain blossom honey with a lot of expertise. The bee honey from Samnaun, with its very special sweetness, is a delicacy due to the extraordinary variety of flowers in the Samnaun valley. We have another excellent natural quality honey from the enthusiastic beekeeper Franz Bichler from the neighbouring village of Pfunds in Austria.
At the breakfast buffet we also have La Natura BIO coffee from Graubünden. All the other products on our breakfast menu, such as the homemade jam, the smoked salmon and the smoked trout from Zirl in Tyrol, the apple juice from farmers in Tyrol and South Tyrol and much more, have also been carefully selected for you.
Breakfast Times
The breakfast buffet is open daily from
7:00 am to 10:30 am.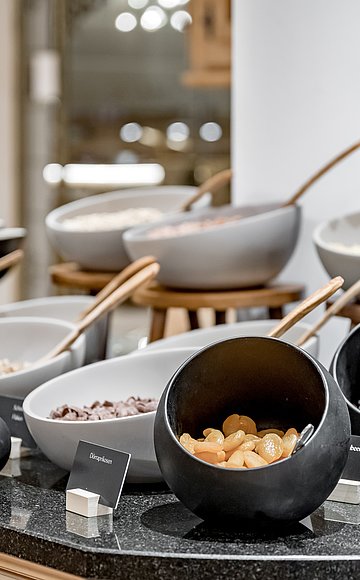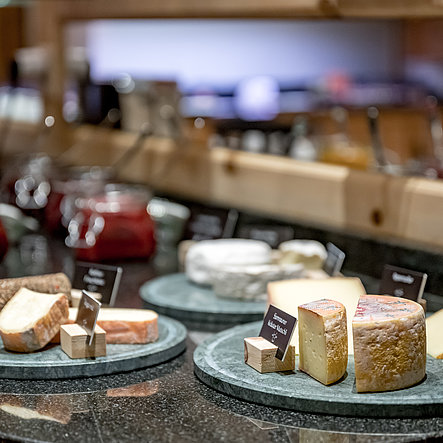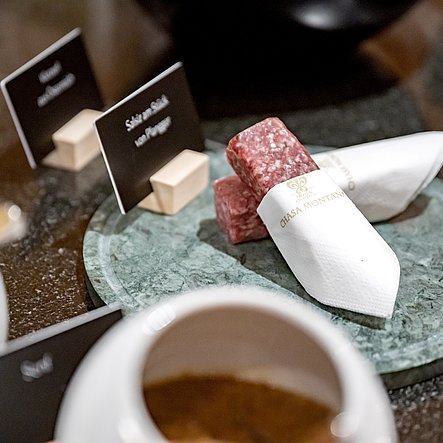 WE WANT TO SPOIL YOU WITH THE BEST PRODUCTS. THAT'S WHY WE WORK HAND IN HAND WITH PRODUCERS FROM THE REGION. FOR EXAMPLE, MOST OF OUR BREAD IS BAKED IN THE LOCAL BAKERY, THE CHEESE COMES FROM THE SAMNAUN ALPINE DAIRY AND WE GET THE MEAT FROM THE HATECKE BUTCHER'S SHOP IN SCUOL.
Bernd Fabian
Star Chef