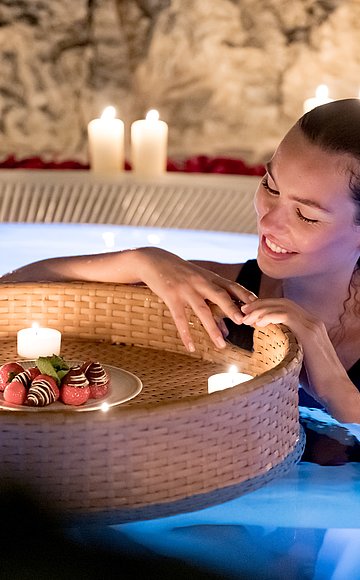 Chasa Montana
Top 10 Experiences
PLACES TO BE & TO GO
Glow Up Your Stay
Are you looking for new experiences? A unique moment that will stay with you forever as a memory of harmony, pleasure or simply happiness. Then we have this special moment for you. We offer you 10 unique experiences that combine the uniqueness of Chasa Montana with the beautiful region of Samnaun in the Engadine.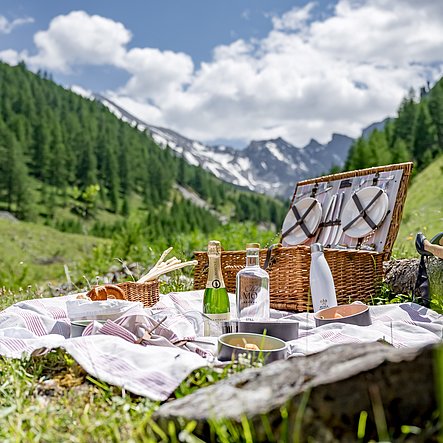 Hike to your Picknick
Hike to a special place with a fantastic view in the Swiss Alps. We will explain you the recommended hiking route which takes about 1 hour. There a luxurious picnic with chilled champagne and everything your heart desires awaits you. Enjoy this magical moment in the untouched nature with your family, with the best friends or for a romantic time for two.
Minimum 2 persons / CHF 100,- per person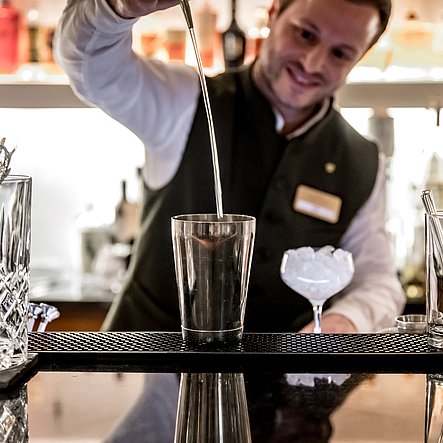 Cocktail class in the mountains
Discover the high art of mixology. At the cocktail course in our La Serena Bar, our bartenders Simon and Grigoris will give you a peek into the shaker. You will learn how to properly shake and stir classic and modern drinks, which ingredients are indispensable in a home bar and which utensils you will need to prepare the cocktails. Get inspired and maybe you will soon create your signature drinik. The course lasts about 1-2 hours.
CHF 40,- per Person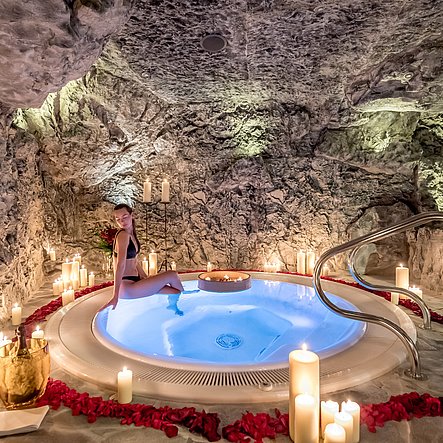 Private Candle light Jacuzzi
Wellness at the highest level awaits you in the romantic & underground grotto with whirlpool in our Montana SPA. This special place belongs only to you today from 21:00 for 2 hours- let yourself be enchanted by the romantic atmosphere with candle lights. Equipped with a whirlpool with 35°C temperature and heated benches, your private grotto offers a special wellness experience.
CHF 500,-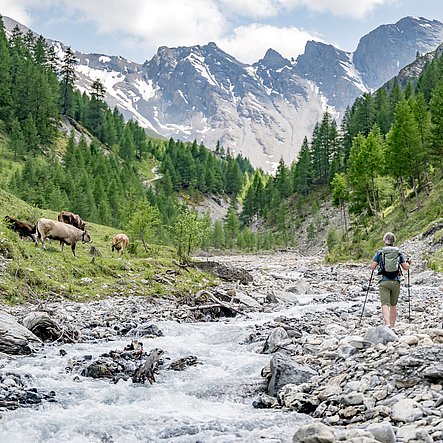 Swiss alpine Experience – Milk & Cheese Tour
In the middle of nature you will experience the origin! Sounds of cowbells, the scent of freshly mowed meadows and the view of the beautiful mountains.
The bus will take you to Alp Bella, or to the milking parlor, depending on which alp the cows are currently grazing. There you can look over the shepherds' shoulders as they work. During the private guided tour, interesting facts about dairy farming in the Samnaun Valley will be conveyed.
CHF 250,- (2-6 persons)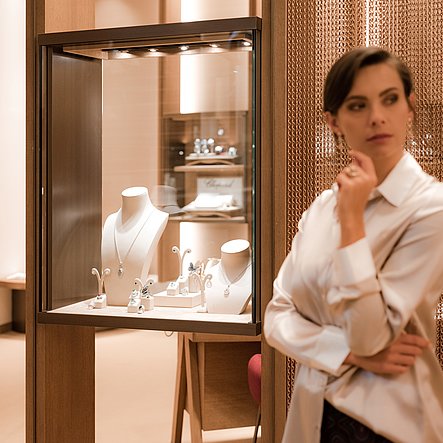 Private Shopping Experience
Surrounded by sparkling jewelry and an elegant interior, you will experience a unique private shopping experience with us at ZEGG Watches & Jewellery at 7:00 pm.
Enjoy pure luxury with professional advice from our exclusive jewelry and watch brands. In addition, we serve luxury canapes from the star cuisine and a bottle of Dom Perignon. Do you have a special wish? We are happy to organize everything individually according to your ideas.
Minimum 2 persons CHF 250,- per person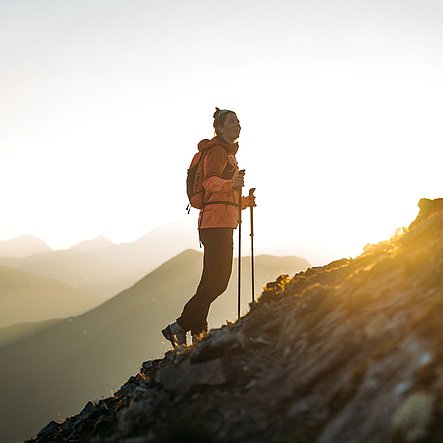 Mountain Sunrise Tour
SUN RISE AT PIZ MUNSCHUNS - Enjoy the first rays of sun and feel the freedom at 2655 m.a.s.l. We will drive you to Alptrider Sattel (2487 m.a.s.l.) and from there you will climb about 200 meters in altitude to the summit of Piz Munschuns at dawn. At the top you will enjoy the sunrise over the Eastern Alps. Afterwards you hike back to the bus and we drive you back to Chasa Montana where you enjoy our three-country breakfast. For this mountain hike you must be sure-footed and free from vertigo. The tour is accompanied by our experienced Jasmin.
minimum 2 personen CHF 40,- per person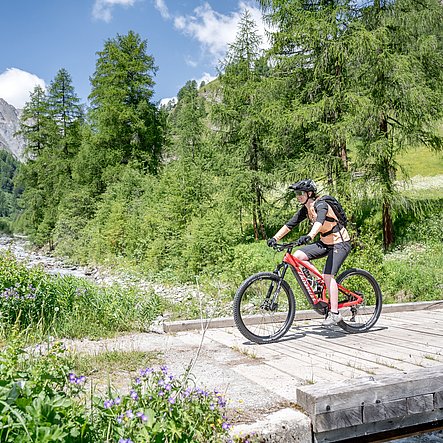 E-Mountainbike Tour
Feel freedom while biking in Samnaun. Up the mountain trail, down the forest path, all the way to the neighboring country or for a spin into the village: biking in Samnaun in the Engadine opens up undreamed-of possibilities. We will gladly equip you with a rental mountain bike or e-bike Mountain Hardtail BULLS free of charge. The only thing missing for the start of your cycling adventure is the first kick. Whether Alp Trida tour or downhill on the Viderjoch, let the landscape pass you by on over 80 km of trails. Our bikeschool Samnaun under the direction of Jasmin Egli will show you riding techniques and unique tours. Experience a bike day with an individually desired tour with private accompaniment.
Price depends on the individual tour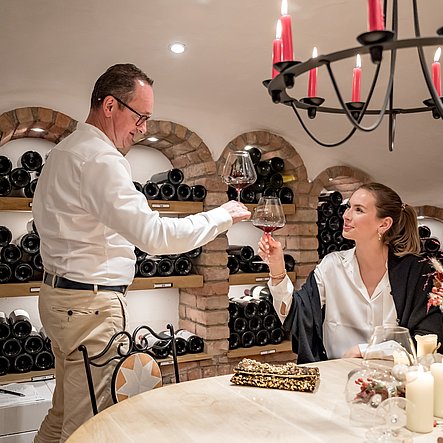 Wine Cellar Tour
with with your sommelier and host Daniel Eisner
With over 20,000 bottles and around 1,400 different wines, our wine cellar is virtually endless. This wine highlight can be experienced in the first-class wine cellars of the Chasa Montana. On 100 square meters, you can enjoy the largest wine selection in the Engadine with host and certified sommelier Daniel Eisner or with certified sommelier Thomas Monsberger, as well as listen to fascinating wine stories. From the wine novice to the true wine lover, the Chasa Montana's own wine cellars will make all hearts beat faster. Armed with secret knowledge and great passion, Chasa Montana's top sommeliers offer guided tours of the wine cellars, where the treasures beneath the hotel are revealed and celebrated together with wine enthusiasts.
For free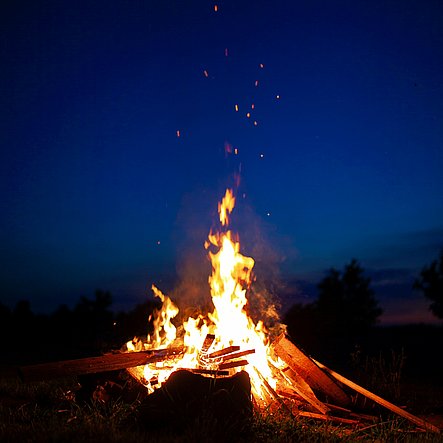 Mountain BBQ
minimum 15 persons
It is quiet on the mountain. Nature is palpable. Experience pleasure in the middle of the border triangle Austria, Switzerland, Italy between blooming mountain meadows.
We prepare a BBQ for you and your group/friends/loved ones according to your wishes. Fresh salads, grilled vegetables, best farmer sausages, lamb chops and everything your heart desires. Toast to the good things in life with a good glass of wine, a chilled beer.
CHF 100,- per person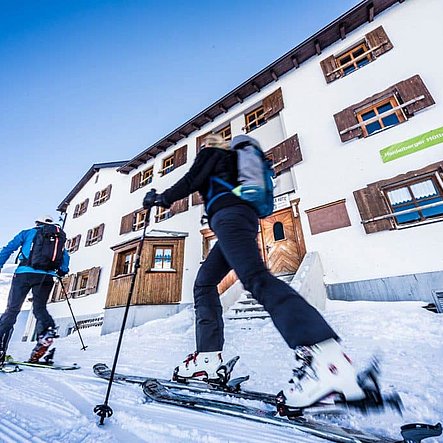 Heidlberger Hütte Tour
mit Übernachtung (ohne Guide für geübte Wanderer)
Very close to the mountains at the unique Heidelberger Hütte with overnight stay. Far away from the stress lies the Fimba Valley and at its end the Heidelberg Hut (2264 m.a.s.l.). This is on Swiss soil (municipality of Valsot), is managed from Austria (Ischgl) and belongs to the German Alpine Club (Heidelberg Section).
In the lonely silence of nature you can find peace, enjoy the beauty of the mountains and recharge your batteries. There you will be awaited by an impressive mountain panorama with numerous 3000m peaks. In the rustic inn or on the sun terrace you can enjoy a fine lunch from the local cuisine and maybe even a sweet temptation for dessert. A highlight is the overnight stay in this alpine rustic mountain hut. The next day you hike back down into the valley to your alpine luxury hideaway - the Chasa Montana.
On request & included in the rate of the hotel