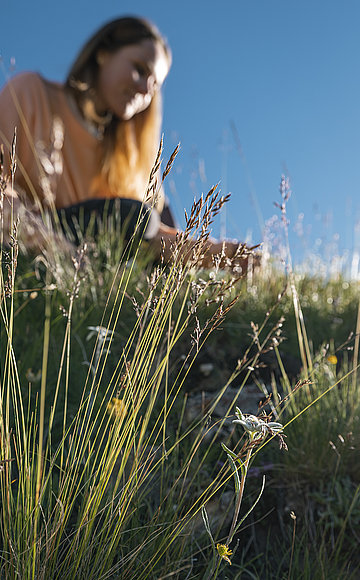 Energy efficient, regional and environmentally friendly
Sustainability & Social Engagement
Happy employees make happy guests
Our contribution to the environment
Energy Efficient
Energy savings through state-of-the-art technology: With the renovation, the entire building technology was also renewed in order to simultaneously save energy and be state-of-the-art in terms of sustainability. A heat recovery system for all of the hotel's hot water consumers, as well as filter backwashing of the indoor pool and whirlpools, the use of waste heat from the pizza oven, and the entire ventilation system reduce heating oil consumption to a fifth. Sustainability is also a priority in other details, such as the coffee offered in the rooms and suites. Since December 2022, guests can enjoy certified organic coffee in their rooms. The coffee is roasted in Graubünden and the capsules are fully compostable.
Regional: product origin
Rest assured that we always try to select our products so that you can enjoy them with a clear conscience. Eggs and chicken only come from free-range on your plate and the use of meat from breeding with performance enhancers we avoid where possible. We pay special attention to our regional suppliers. This way, we guarantee high-quality food from sustainable agriculture for your enjoyment and well-being. Two of our preferred producers are the Samnaun Dairy (www.sennereisamnaun.ch) and the Hatecke Butchery in Scuol (www.hatecke.ch). For the Samnaun mountain cheese the milk comes in summer with a unique milk-pipeline directly from the alp Bella to the valley, where afterwards the cheese is produced. During the summer months you can visit this special feature.
Social Engagement
In the same way, sustainability pays off when it comes to staff. "There are enough beautiful hotels. What really makes a hotel's reputation is a passionate team," says Daniel Eisner, who has managed the Relais & Châteaux Chasa Montana in Switzerland with his wife Carina Eisner since 2012. During the renovation and the associated temporary closure, many of the hotel's employees were retained and continued to work in other ZEGG Hotels & Stores operations. Most of the staff in the new establishment will therefore look familiar to regular guests.
Swisstainable
We are Swisstainable
We are part of the sustainability programme Swisstainable and classified at Level I – committed. The sustainability programme Swisstainable unites businesses and organizations along the entire Swiss tourism sector. With our participation, we commit ourselves to continuous sustainable business development, we pursue measures in the field of sustainability and thus make a concrete contribution to sustainable tourism in Switzerland.
Team
The Chasa Montana team - staff with charm and heart
Our team is an important key to your holiday experience. Depending on the season, between 40 and 80 highly trained employees take care of your needs. Would you like something very special? - Don't hesitate to tell us about your most unusual wishes. Our team takes great pleasure in fulfilling them for you!