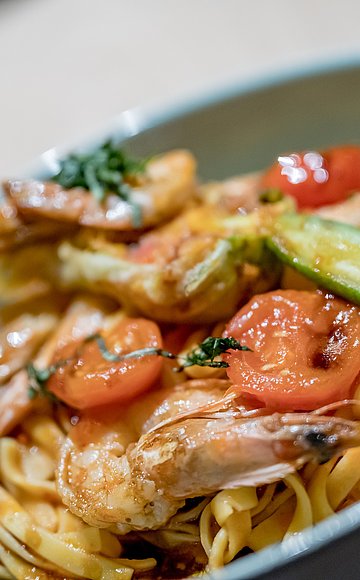 CELIAC DISEASE & LACTOSE INTOLERANCE
Enjoy carefree
As part of the gluten- & lactose-free holiday region Scuol - Samnaun - Val-Müstair, we offer our guests a carefree stay in the ZEGG Hotels Samnaun. In the Relais & Châteaux Chasa Montana and in the Chalet Silvretta Hotel & Spa you can enjoy various lactose- & gluten-free dishes not only as part of the half-board but also in the á la carte restaurants "La Pasta" & "Bündner Stube". Our staff is continuously trained in these areas so that you can enjoy excellent advice and service. We have attached a description of coeliac disease and lactose intolerance with the suitable and unsuitable products.

Celiac disease
Coeliac disease is an intolerance to gluten (glutinous protein). With a corresponding genetic predisposition, it leads to damage to the mucous membrane of the small intestine. The damage leads to the breakdown of the villi of the small intestine, which reduces the surface of the intestine and leads to chronic inflammation of the small intestine. The effects vary from person to person. Most commonly, it causes nausea, vomiting, diarrhoea, abdominal pain and, due to the reduced absorption of nutrients, fatigue and weight loss, as well as anaemia and bone loss. In children, coeliac disease can also lead to growth disorders. In contrast to lactose intolerance, there is no tolerance threshold for coeliac disease sufferers and they require a strictly gluten-free diet!

The following cereal products are not gluten-free:
Wheat
Rye
Barley
Oats
Spelt
Original spelt
Green spelt
Triticale
Kamut
Einkorn
Emmer

The following products are gluten-free:
Vegetables, salads, mushrooms, herbs, fruit, potatoes, corn, polenta, rice, millet, other special cereals, sweet chestnuts, pulses, milk & dairy products, meat, fish, eggs, tofu, fats, oils, nuts & seeds, sweeteners, pure spices (pepper, paprika) We offer 100% gluten-free cuisine so you can enjoy your holiday free from discomfort.

For further information, please visit: www.zoeliakie.ch or www.engadin.com/glutenfrei

Lactose intolerance
Lactose intolerance (not to be confused with cow's milk protein allergy) is due to a reduced or absent production of a digestive enzyme (lactase) in the small intestine, which means that the milk sugar (lactose) cannot be digested/is not digested enough. The undigested milk sugar enters the large intestine and is fermented there, leading to gas formation. The symptoms vary greatly between sufferers. It can lead to bloating, vomiting, abdominal pain & cramps, diarrhoea and nausea.

The following products contain lactose:
Any type of animal milk (cow, sheep, goat, mare...).
Buttermilk, whey, yoghurt, fresh cheese, quark
Mozzarella
Processed cheese
Cream, sour cream, coffee cream
Rivella
Preparation & products of the above foods (glacé)

The following products are lactose-free:
Vegetables, salads, herbs, fruit, potatoes, chestnuts, pulses, cereals, fish, meat, eggs, tofu, oils, nuts & seeds, fats, boiled butter, sweeteners, pure spices (such as pepper, paprika), hard & semi-hard cheeses (any cheese at consumption maturity). The personal tolerance of the individual concerned must be taken into account here.

Our gluten-free and lactose-free dishes are marked on our menu.

If you are planning a stay in our gourmet hotel in Switzerland and suffer from coeliac disease or lactose intolerance, please let us know before your arrival so that our service and kitchen team can be informed so that this can be taken into account in the menu design.