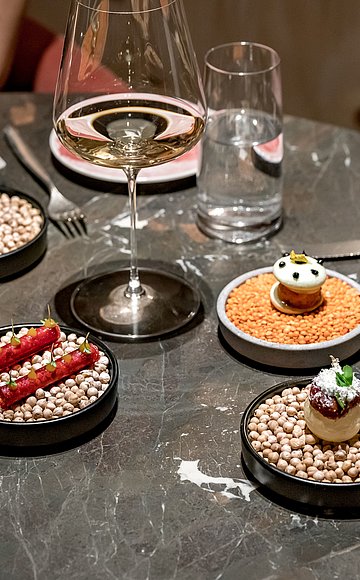 13 - 20 January 2024
5th Three-Country Corner Gourmet Week
Experience the 5th Three-Country Corner Gourmet Week at the Relais & Châteaux Chasa Montana from 13 to 20 January 2024
Saturday, 13 January 2024: Appetiser buffet with specialities from the border triangle of Switzerland, Italy and Austria & Chasa Montana gourmet dishes from the kitchen of star chef Bernd Fabian.
Sunday, 14 January 2024: Champagne aperitif, welcome & international gala dinner, followed by cheese tasting with cheese sommelier Thomas Monsberger including selected sweet wine rarity.
Monday, 15. January 2024: Italian gourmet menu by Sous Chef Lukas Kümmerer & our Italian chefs Michele, Francesco & Andrea.
Tuesday, 16 January 2024: Austrian gourmet menu from the Michelin-starred kitchen of Bernd Fabian.
Wednesday, 17 January 2024: Swiss gourmet menu from the Michelin-starred kitchen of Bernd Fabian.
Thursday, 18 January 2024: Kitchen party with star chef Bernd Fabian & vintner visit from St. Gallen.
Roman Rutishauser from St. Gallen presents his wines for the aperitif. Followed by an optional wine accompaniment from the Rutishauser winery to the menu.
Friday, 19 January 2024: Gourmet menu, followed by Italian-Austrian-Swiss dessert buffet.
From 9:30 pm: Rarity tasting in the wine cellar with host and qualified sommelier Daniel Eisner. 2 matured special wines each from Austria, Italy and Switzerland will be tasted.
Price: CHF 50 per person. For all guests staying at least 4 nights in the house, the tasting is included - registration at the reception is required.
Three-Country Corner Gourmet Week
Our offer for you:
7 nights for the price of 6
Daily gourmet highlights
Rarity tasting in the wine cellar
360° winter experience

from CHF 4100 for 2 persons