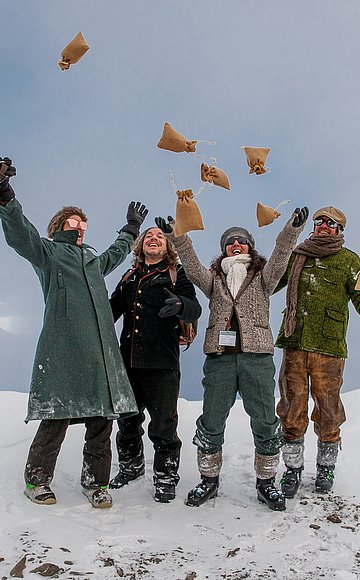 25 November 2023
3rd Smugglers Trophy and Winter Opening Concert
On the trail of the legendary smugglers. Samnaun starts the opening weekend with the "Smuggler Trophy" event. At the Trophy, the participating teams have to smuggle "smuggler's bags" back and forth between Switzerland and Austria - on skis and snowboards, of course. In between, they have to solve tricky tasks, outsmart customs officers and work together with accomplices.
In the evening, the Winter Opening Concert will take place. This year DABU FANTASTIC will play on the big stage in Samnaun Dorf. Dabu Bucher and DJ Arts founded the Swiss band in 2008. In 2012, Dabu Fantastic was awarded "Best Talent National" at the Swiss Music Awards and is now one of the most successful bands in Switzerland.
Since its foundation, the musical style has evolved from hip hop towards dialect pop. The songs with clever and witty lyrics tell stories of city and country. The latest album "So Easy" was released in 2022.
The energetic live band, which thrills the masses with its unique stage presence and forces them to dance with captivating rhythms, will play in Samnaun village on Saturday, 25 November 2023 at 6 pm. Admission is free.
WINTER-OPENING-CONCERT
with the Swiss band DABU FANTASTIC
Saturday, 25 November 2023
from 18:00 pm, Samnaun Dorf
Entry to the concert is free of charge